Kerala is the most loved tourist destination in India. Popularly known as God's own country, it is a dream holiday destination for domestic as well as international tourists. How can you visit such a lovely state and not bring back the Kerala souvenirs to keep the memories alive?
I have visited the state multiple times and every time something has come back with me. This shopping guide for Kerala Souvenirs has been compiled over many trips. Having said that, there are many more that are still on my 'to be brought' list.
Kerala Souvenirs Shopping Guide
Spices of Kerala
The state is best known for its spices. I am sure you would have visited some spice gardens in the state and discovered the vines of black pepper and shrubs of cardamom. Remember people from around the world landed on the shores for these very spices. So what better Kerala Souvenir than the Spices?
Being consumable, you can buy spices guilt-free. You can also relish the fact that you bought your spices, right at the source.
Spices that you should pick include Black Pepper, Cardamom, Cloves, & Cinamon. You can get your hands on Vanilla too if you are lucky.
Spice Masala Flavors
While my recommendation would be to buy the spices and mix them at home, you can buy pre-mix masalas too. A specialty includes small bottles of spice flavors. You can put 2-3 drops in your Chai to get the desired flavor. It is great for travelers who like their tea flavored with Ginger or Tulsi or Mint.
Kerala Souvenirs for Foodies
Banana Chips
You can not visit Kerala without getting addicted to the yellow banana chips ubiquitously available in the state. As a vegetarian and a connoisseur of savories, Banana chips are my favorite. You can find them anywhere, you can eat them straight from the packet and you can easily carry them back home.
Anyone who receives Banana Chips from the state will bless you 🙂
Tapioca Chips
Tapioca, also known as Casava is consumed across the country, mostly as Sabudana. Nowhere else do you make chips out of them, except in South India, and especially in the state. These thin white crisps are a little hard and do not really have a taste of their own. So, make sure you get the ones with ample salt and spices.
Like Banana chips, Tapioca chips are easy to carry as souvenirs from the state.
Halwa
These Halwa's come in various hues, but the most popular is the dark one, which looks like a well-settled jelly. The dark color comes from the jaggery used to prepare it. Other ingredients include rice flour, coconut, dry fruits like cashew nuts, and the spices like cardamom. It is a bit heavy to eat, but it is heavenly too.
Taste a bit and pack it as a souvenir for the foodies back home. Thank us later.
Tea and Coffee as Kerala Souvenirs
If you have visited Munnar and walked through its lovely tea gardens, there is no reason not to pick up the local Tea right from its gardens as a souvenir. I recommend that you visit a tea factory, and watch the processing of tea leaves. Equipped with the knowledge of tea varieties, go ahead and take your pick.
If you do not live in South India, you can also pick up filter coffee powder here.
Art Souvenirs
Kerala has 2 classical dance forms and numerous folk art forms. You would get a glimpse of it no matter which part of the state you travel through.
Kathakali Masks
Kathakali, the classical dance-drama of the state, is known for its elaborate and colorful face masks. The real dancers take hours preparing for being on the stage in elaborate makeup and costume. If you can see the green room of a Kathakali performance. You would not be able to come back without a Kathakali mask as a souvenir from Kerala.
You get these masks in all shapes in many different materials. I have the one made in Coir. The smallest ones come as keychains.
Netipattam
Kerala is an elephant country. In the good old days, man and elephants peacefully co-existed. Elephants used to be a part of the temples. For ceremonies, elephants used to be elaborately decorated. Nettipattam is what used to adorn their foreheads. They are intricately carved. The old ones can be seen in the museums.
The smaller versions are some of the favorite Kerala souvenirs that tourists like. You can see rows of Nettipattam in any souvenir shop. Traditionally, they are golden in color with colorful binding around them and a bell hanging at the bottom.
Many people buy Netipattam to hang in their cars or on the walls. Check out some on Amazon.
Nettur Petti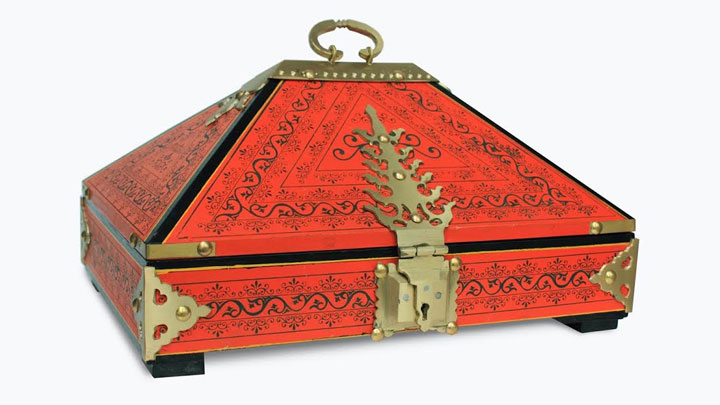 The Nettur Petti is a traditional jewelry box of wood with brass work on it. The more elaborate ones may also have paintings done on them. What makes the Nettur Petti stand out among the other jewelry boxes that you may have seen is its shape. The bottom is rectangular, but the top is almost pyramidical with a carved brass piece on top. Sometimes they look like miniature replicas of temples.
You would need some space to keep Nettur Petti in your home. As and when I buy one, I would like to keep my miniature collection in it, that I can open and show to any visitor.
Mural Paintings
Kerala temples have a unique painting style with a dominant rust-orange color. I have seen them at Padmanabhaswamy temple in Trivandrum and at temples in Kalady.
You can buy the re-creations of temple paintings or modern paintings that use the same style of paintings. At an exhibition, I bought small wooden pieces painted in the Kerala style painting as jewelry. I love wearing those pendants that in a moment port me back to temples of the state.
Thankfully, there are many artisans who are keeping this painting form alive and thriving.
Wooden Boats
Narrow longboats that compete in the annual boat race are the signature boats of Kerala. You can see them in the backwaters. Many high-end hotels and resorts use them to showcase the fishing culture of the state. Now it is difficult to carry a real boat back home. You can buy a miniature boat as a souvenir.
I have a boat that is full of spices, combining two key mementos of the state.
Coconut shell artifacts
Coconut shell artifacts can be found in the whole coastal belt of India. However, the products and the style of carving change with each place. Check out the bowls and other small artifacts made with a coconut shell. A perfect eco-friendly souvenir to pick.
Sea Shell Artifacts
Just like coconut shell products, seashell products are found in small and big souvenir shops. Now, it is advisable not to take the seashells away from the seashores, that is where they belong. On the other hand, remember that small vendors selling them on the beaches earn their living by selling them. Take your call.
Traditional Kasavu Sari
Imagine Kerala women, and in all probability, you think of them in off-white Saris with a golden border. Well, they are wearing the traditional Kasavu Sari. These Saris come in two different variants – one as a normal Sari. Another is the Mundu set, which is a kind of 3 piece Sari. Check out some of them.
Most Saris are handwoven cotton, and the border could be pure gold if you can afford it. Designer versions have some pattern or color added to the border and palla. The dominant color is always off-white or ivory and gold.
Kasavu Mundu is available for men as well.
Aranmula Kannadi
Long before the days of glass mirrors, how did people see themselves? Well, they had handmade metal mirrors, that not just help you see yourself, but are a piece of art in themselves. Aranmula town is where it is traditionally made. As per local beliefs, it has been used since Vedic times. Other legends call it the mirror of Parvati.
The alloy used had a secret recipe. The mirror is framed in a metallic frame in different shapes and is usually intricately carved.
Not an economical souvenir, but definitely a true blue Kerala souvenir to carry back. The range starts from Rs 3000/- onwards. Check out some of them on Amazon.
Coir products
Coir-making is a huge small-scale industry in the state. When you take a backwaters tour, you can see people making ropes from coconut fiber. This raw coir is mostly used as an industrial product for things like mattresses. However, you can pick up small baskets or masks made of coir.
Is there any other that I missed in this post? Do let me know in the comments.